I don't talk about the fourth member of our family very often, but she is very much a large part of our life. Darla is our 1 year old Black Lab. We bought her when she was just a few weeks old - this is a picture of her on the day we brought her home.
I'll be sharing more pictures with you over the next month because Darla was selected to be a
Pedigree Ambassador
. She is my husband's "duck hunting dog" and he began training her when she was really young. One of the guys he was learning from suggested a more expensive brand of dog food and I felt like we should make the transition to Pedigree.
My husband has been hesitant to switch her over, but since Pedigree has such a good reputation, he's willing to try. The food she's on now has done very well because she has an extremely shiny coat and clean teeth. I'm not sure how many stools she has per day, but she is *ahem* regular. She's also been a very healthy dog with no problems or illnesses to speak of.
We are still on the first few days of the program so she's at a 50/50 mixture of her old food and the Pedigree brand. So far she seems to be doing well and is chowing on it just like her other food(and my kids toys-but that's another story).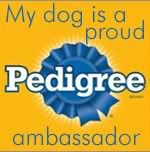 Be sure to follow Pedigree on Twitter
@PedigreeUS
and Facebook:

Pedigree Adoption Drive Facebook page
to learn more.
Tomorrow Pedigree is having a twitter party with Amazon Gift Cards up for grabs!
I wrote this review while participating in an Ambassador campaign by Mom Central Consulting on behalf of Pedigree and received dog food to facilitate my reviews and a promotional item to thank me for taking the time to participate.