I'm bringing back
Totally Talented Tuesday
! It would be great if you wanted to play along and post one on your blog, but basically this is something that I do to make sure I document everything so I can look back one day and remember it all.
I started it in December of 2008, and did it for a few months. If you weren't following me back then,
click here
to see how it works. I'm bringing it back because Evan is in
preschool
now and I'm sure I'll have
at least
one new thing to post about each week.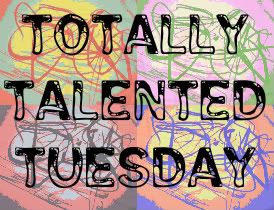 The rules are pretty simple! Post this button on your Totally Talented Tuesday posts and tell me about the talent going on at your house. Talent can be yours, your kids', your husband's, even your dog! Just tell me what it is.
Every Tuesday, I will post Mr. Linky and would love for you to play and link up if you have time!
I always wish that I would have written down more when Evan was a toddler. For today's TTT, I'm listing the words that Isabella says right now so that I will always have a record of it.
At 15 months, these are the words Isabella uses:
Mommy
Daddy
Evan(she RARELY says Evan)
Gi-Gi
Pop
Derrick
Grace
Best Friend
Kitty
Puppy
Hey
Bye
Pretty
Rock-a-bye baby
Amen
Juice
Please
Thank you
Baby
Cheese
I think it is fun to hear what kids say first - you learn a lot about their daily activities or what they like. I'm sitting here racking my brain but that's all I can think of that she says right now.
Link up to the talent going on at your house!