I'm bringing back
Totally Talented Tuesday
! It would be great if you wanted to play along and post one on your blog, but basically this is something that I do to make sure I document everything so I can look back one day and remember it all.
I started it in December of 2008, and did it for a few months. If you weren't following me back then,
click here
to see how it works. I'm bringing it back because Evan is in
preschool
now and I'm sure I'll have
at least
one new thing to post about each week.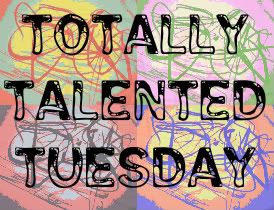 The rules are pretty simple! Post this button on your Totally Talented Tuesday posts and tell me about the talent going on at your house. Talent can be yours, your kids', your husband's, even your dog! Just tell me what it is.
Every Tuesday, I will post Mr. Linky and would love for you to play and link up if you have time!
I am THRILLED because I got great pictures of the kids for our Christmas Cards(which I will post soon). Last year I had many photo shoots with them and never found one I liked. About 15 minutes after I got the "perfect shot", Evan fell and busted his lip and scratched his chin pretty badly. You can barely see his chin in this picture.
You can see it a little better in this picture. Also, this kitty has a lot of patience, which is serious talent in my book. :)
Link up to the talent going on at your house!