Ahhh..I'm a moron and let last Tuesday get by without posting a TTT-not that many of you play along, but I promised myself I would keep doing these so I have everything written down somewhere.
I'm bringing back
Totally Talented Tuesday
! You haven't missed anything. I've only posted two weeks of it since starting it back up. I hope you'll play along this week!
I started it in December of 2008, and did it for a few months. If you weren't following me back then,
click here
to see how it works. I'm bringing it back because Evan is in
preschool
now and I'm sure I'll have
at least
one new thing to post about each week.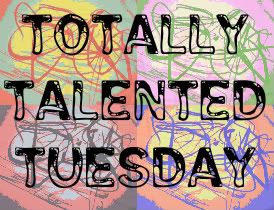 The rules are pretty simple! Post this button on your Totally Talented Tuesday posts and tell me about the talent going on at your house. Talent can be yours, your kids', your husband's, even your dog! Just tell me what it is.
Every Tuesday, I will post Mr. Linky and would love for you to play and link up!
My Granddad(my mom's dad - Pappy) made things out of wood after he retired. My mama was next to the youngest of 8 kids, so my granddad was older than most and was bald and retired for as long as I knew him. He had a little shop where he would sell things like swings, Adirondack chairs, gliders, rocking chairs, night stands, etc on Fridays and Saturdays. My graddad passed away when I was 12, but I still have my dad who makes those things like my granddad did.
This weekend my dad was making a swing(the same way my granddad did) for one of my many cousins out of cedar wood. I realized that I don't think I have any pictures of him or my granddad working in their shops. My granddad had an old singlewide trailer in his backyard that he worked in. My parents built a pretty large shop at our house when I was pretty young. These pictures are from my dad working on that swing in his spare time.
This is the swing that sits right outside my dads shop. I can't even count how many times I've sat on it with my mom, kids, or siblings while my dad was working in there. Its been there for many years. I have one almost identical in my backyard that my dad made for me about 3 years ago.
Link up to the Talent that you've posted about on your blog!