I'm bringing back
Totally Talented Tuesday
! I started it in December of 2008, and did it for a few months. If you weren't following me back then,
click here
to see how it works. I'm bringing it back because Evan is in
preschool
now and I'm sure I'll have
at least
one new thing to post about each week.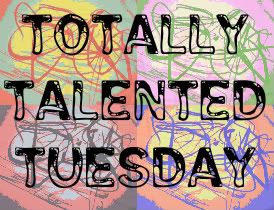 I know it is short notice because it
is
Tuesday, but if you have time, throw a post up and link up. If not, keep an eye out for talent in your life and post about it next week.
Since this is the first time I've done Totally Talented Tuesday in over a year, here are the quick rules:
Totally Talented Tuesday is meant to show off ALL talent! It can be YOUR talent, your children's talent, your husband's talent, or anyone you know! You can post about ANYTHING from your child's latest drawing to a photograph that you took! Maybe you scrapbook? Show us some pages that you're proud of! Did your baby just learn how to sit up or crawl? Post a picture of your baby's new talent! Did someone master the hula hoop or play baseball? Post some pictures!! Did you cook a great meal? Tell us about it! Maybe you have done an amazing post on your blog that you want everyone to read? Link up with us and play along!
Just so you know, this button was made from Evan's first drawing with markers! :)
The rules are pretty simple! Post this button on your Totally Talented Tuesday posts! Be sure to link back to my blog somewhere in your post so that people know to come here and play!
Every Tuesday, I will post Mr. Linky and would love for you to play and link up!
As most of you know, Evan started preschool a few weeks ago. Today is his 5th day in preschool and he's already had his First Homework Assignment. They sent home this flag for him to decorate and put a picture or two of his family on. We got his
paint set
out, stripped him down to his undies, got the picnic table that I bought for $2 at a garage sale, and let him go at it.
Isabella even got in on it.
We all painted our hands and put them on a paper that will be going up on the fridge. I'm green, Evan is blue, Daddy is red, and Isabella is yellow.
Now link up if you have one!!