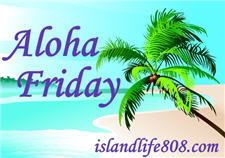 It's Aloha Friday over at
An Island Life
! Answer my question and make sure you post one on your blog! After that, go relax because today is Friday!!
My question for this week is:
Can you parallel park or do you drive around the block?
I am almost never in a situation where I have to parallel park, but when I am, I usually pull up behind a car that doesn't have any car near it. I'm NOT comfortable with my parallel parking skills...or lack there of.