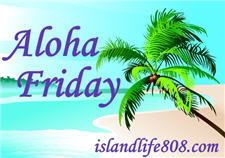 It's Aloha Friday over at
An Island Life
! Answer my question and make sure you post one on your blog! After that, go relax because today is Friday!!
My question for this week is:
What is on your kitchen table right now?
I am horrible about putting my mail on my kitchen table. I have about 3 days worth on their right now along with a few coupons that are waiting for me to cut them out and put them in my organizer.