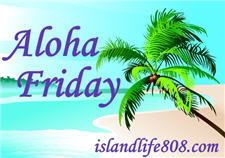 It's Aloha Friday over at
An Island Life
! Answer my question and make sure you post one on your blog! After that, go relax because today is Friday!!
My question for this week is:
How often do you go to the grocery store?
I usually make one big trip every 2-3 weeks(I'll stock up on the buy one, get one free stuff) and have my husband pick up things like milk and bread in between. If I see that there is something that I use often on sale, I'll usually run and pick up JUST that. But I usually just go every 2-3 weeks.