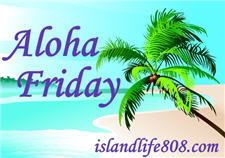 It's Aloha Friday over at
An Island Life
! Answer my question and make sure you post one on your blog! After that, go relax because today is Friday!!
My question for this week is:
Warm weather is HERE. It ended up being 90 degrees yesterday. What is your favorite frozen treat on a hot day?
We LOVE these little icee pops. I'm also a hug fan of frozen snickers bars....but I'm trying to cut back since swim suit season is around the corner.
Here is Evan with his Icee pop(I don't know the real name of them) yesterday