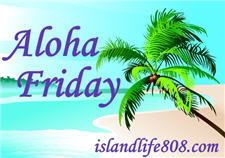 It's Aloha Friday over at
An Island Life
! Answer my question and make sure you post one on your blog! After that, go relax because today is Friday!!
My question for this week is:
If someone were to come knock on your door right now and come in, would you be embarrassed with how clean your house is?
We put our house up for sale yesterday and have been working hard to minimize the clutter that comes with having two little kids. My house is super clean now, so I wouldn't be embarrassed, but I would have been about a week ago.