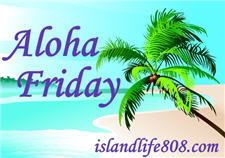 It's Aloha Friday over at
An Island Life
! Answer my question and make sure you post one on your blog! After that, go relax because today is Friday!!
My question for this week is:
Do you get Allergies in the spring?
Pollen used to NEVER bother me...until I had Evan. Ever since, I sneeze like crazy in the spring. I was starting to think that I was getting a cold, then I looked outside-everything is getting green and flowers are blooming - allergies have begun. THAT is why I prefer summer over spring.