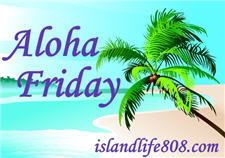 It's Aloha Friday over at
An Island Life
! Answer my question and make sure you post one on your blog! After that, go relax because today is Friday!!
My question for this week is:
How many people are in your family and what kind of car do you drive? Does it work for you?
We bought a 2008 Ford Escape a few months before Evan was born. I LOVED it. Then came Isabella. It still
works
, but it can be a tight fit. I have a 12 year old sister and if she wants to ride with us, she has to cram in between the two car seats. We plan on having one more baby and there is no way I'll be able to put 3 car seats back there. I will have to buy something with a 3rd row.