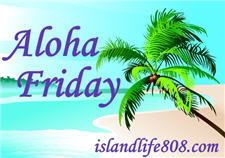 It's Aloha Friday over at
An Island Life
! Answer my question and make sure you post one on your blog! After that, go relax because today is Friday!!
My question for this week is:
What kind of computer do you have? Do you like it?
I have a hp desktop that has seen better days. It has crashed 3 times in the last few months and today I can't get it to start up. I'm on a REALLY old laptop right now and the mouse doesn't work great and it WILL NOT hold power. It HAS to be plugged into the wall and if it comes out it will turn off immediately.
SO, I'm planning on buying a new one SOON!