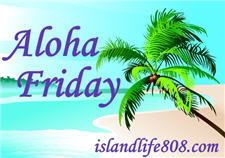 It's Aloha Friday over at
An Island Life
! Answer my question and make sure you post one on your blog! After that, go relax because today is Friday!!
My question for this week is:
Do you exercise regularly? What is your favorite type of exercise?
NO! I'm not a huge fan of exercise, but I realize that two kids have permanently messed my body up and exercise is now a must. I bought an elliptical machine and it is kicking my behind! I don't mind going on walks, but they're usually at my toddler's pace.