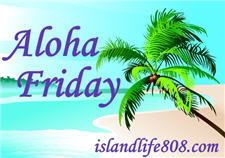 It's Aloha Friday over at
An Island Life
! Answer my question and make sure you post one on your blog! After that, go relax because today is Friday!!
My question for this week is:
Do your friends and family know that you blog? Have they ever seen it?
Of course my husband knows I blog and knows how to get to it. I have ONE friend that knows the name of my blog and has seen it. My parents have also seen it but almost never use the computer-they still have dial up. No one else knows the name of my blog. SOME friends and family member know that I blog-but they don't know the name of it and haven't seen it. I'm not sure why I've never shared it-I just haven't. I guess I don't work anymore and this is my way to get to know other people and "get out of the house" while still being home.