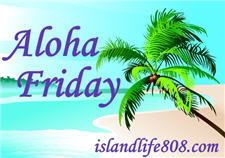 It's Aloha Friday over at
An Island Life
! Answer my question and make sure you post one on your blog! After that, go relax because today is Friday!!
My question for this week is:
What is your dream job? If money wasn't an issue, what would you do?
I love being a stay at home mom, but I would love to own a beautiful house/building that has wedding receptions on the weekends. I would buy a place in a great location and it would have big columns and a gazebo outside in case they wanted to get married there as well. We would do it as a family and offer the catering, photography, DJ, decorations, and everything else needed!