This is my third Christmas that I've been a mom. Here are our pictures with Santa over the past three years.
Evan at 4 months in 2007.
Evan at 16 months in 2008 with My husband, brother, sister, and I(Isabella was in my tummy).
Evan at 2 and Isabella at 4 months in 2009.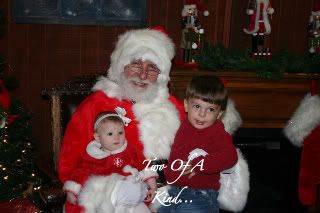 If you have a Wordless Wednesday on your blog, leave your link here so I am sure to visit!
For more Wordless Wednesday go check out
5 minutes for mom
and
7 Clown Circus
!