I am a stay at home mom of two small children and have to deal with everything that running a blog entails during the day. My husband has them while I take a shower at night. Things like THIS happen almost every time they're on Daddy's watch. This was the first time he drew on my walls. I say first because I'm SURE there will be more times.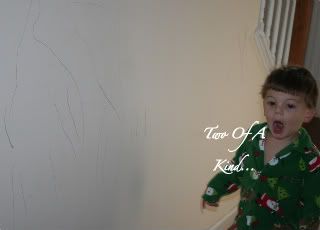 If you have a Wordless Wednesday on your blog, leave your link here so I am sure to visit!
For more Wordless Wednesday go check out
5 minutes for mom
and
7 Clown Circus
!