I was pretty slack this month. Isabella turned 4 months on December 5th, and I just got her into a 4 month doctor appointment last week.
She's still long and skinny. At 4 1/2 months, she weighed in at 11 pounds, 12 ounces(8%) and was 25 3/4 inches tall(90%). I was/am a little worried about her head because it is only 15 1/4"(8%). They even checked it three times to make sure. The doctor said that developmentally, Isabella is perfectly fine, so it should be OK.
We decided to start her on baby cereal to try and fatten her up a little bit. Friday night was the first time she had cereal and at first she made a face and spit it out. After a few minutes she would reach for the spoon and try to get it in her mouth herself. She would still push it out with her tongue, but that is just part of learning to eat.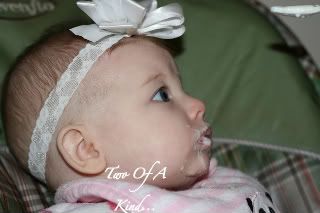 She went through a week or two where she was waking up 2 times at night, but now she's back to sleeping most of the night. She goes down around 9:30pm and wakes up at 6am to eat, then goes back to sleep until 10-11am.
She rolls all over the house and takes it all in. She's starting to play with toys(AKA chew on them) and will scoot herself to get closer to whatever she wants to put in her mouth. If she gets too close to one of Evan's toys, he'll go and say "NO baby, mine!". I tell him he needs to share and he'll usually put it back down on the floor and show her how to play with it.
She's my little thumb sucker. I'm not sure what I'm going to do about that when she gets older. As soon as she starts to get a little fussy, she'll stick her thumb right in her mouth. My mom calls her the Simpson baby, but instead of the paci, it's her thumb.
She's very mild mannered and will always go along with the flow. She almost never cries. The only time you hear from her is if she's really sleepy or hungry. Usually if she's sleepy she'll just put her thumb in her mouth and put herself to sleep.
Just for comparison and so I have it recorded somewhere else, Evan was 12 pounds, 15 ounces and 25 1/2 inches long at 4 months.