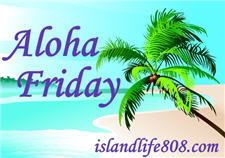 It's Aloha Friday over at
An Island Life
! Answer my question and make sure you post one on your blog! After that, go relax because today is Friday!!
My question for this week is:
Do you ever think about something during the week and then think, "That would make a good Aloha Friday question"? Or do you just sit down on Friday morning and make something up?
LOL! I do all the time! The problem is that I normally forget what the question was and when I sit down to type it out, I draw a blank. I need to start running to the computer every time I think of a question.