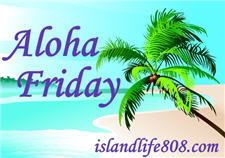 It's Aloha Friday over at
An Island Life
! Answer my question and make sure you post one on your blog! After that, go relax because today is Friday!!
My question for this week is:
Do you remember the dreams that you have at night? Do they ever come true?
I do. And it is so weird how sometimes something similar will happen. Not to be morbid, but I kept dreaming about my old boss and my old baby sitter a few months ago. I told my mom that I really felt like I needed to go see them and say hey. Within a week, my old boss's mom passed away and my old baby sitter's dad passed away. It was so odd. And I always dreamed that Evan was a boy and Isabella was a girl.
Then 2 nights ago my sister dreamed something happened to someone close to us and my great aunt passed away yesterday. I was just wondering how often it happens to you.
On the flip side of that, I did dream the other night that I was pregnant with twin girls. WHAT? I KNOW I'm not pregnant and that was just one of those crazy dreams!