I'm sorry that I've been MIA for the past 4 days. Things have been really busy around here. One of my aunts came in town on Wednesday and we've been spending most of our time at my parents' house.
We decided to skip on the turkey and we did our own BBQ for Thanksgiving. Last year we did prime rib. We also had all of our favorites(Mac and cheese, potato salad, 3 different cakes, oreo balls, and much more). I am so mad at myself for leaving my camera at home on Thanksgiving day. My aunt did take some pictures for me and I'll have to get those from her soon.
I did go shopping on Friday, but I didn't leave my house until 9 am. There is nothing I needed to leave my house for at 5am(or earlier). Hubby watched the kids so I could shop with my aunt and mom for a few hours. I had to run back to the house after lunch so that I could feed Isabella. I didn't want to take her out in the crowds and I can't go very long without pumping or feeding her. We ate left overs that night and played with the kids.
Saturday and Sunday we put up Christmas decorations and did a little more shopping here and there. Here are the few pictures that I do have from this weekend. I hope everyone had a Happy Thanksgiving!
Evan "helping" me make oreo balls.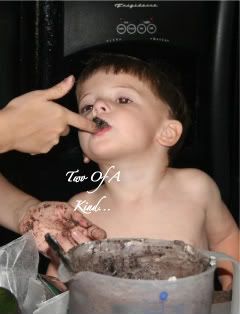 Evan has been wanting to hold Isabella a lot lately-so sweet!