I sill can't believe that it is almost Christmas again. Before I know it, I will be rushing around trying to make sure I have everything ready for the holidays. In all of the hustle and bustle, I need to remember to take time out and explain the real meaning of Christmas to Evan.
I can always count on
VeggieTales
to help me explain bible stories and morals to my kids. Every DVD teaches several life lessons that have been put into a story so that children can easily understand them. With cute characters and fun songs, VeggieTales easily captures a child's attention.
Thanks to
Family Review Network
and Veggie Tales, we were sent a copy of
Saint Nicholas: A Story of Joyful Giving
for review.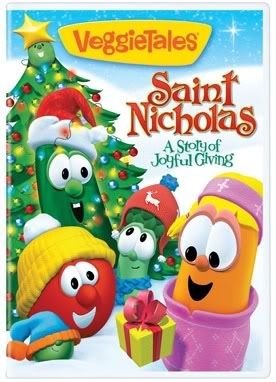 Overview from the back:
A Story of Joyful Giving! Find out as the Veggies discover the true joy of giving to others -- at Christmas time and throughout the year!

Laura Carrot's Christmas stocking might be empty this year because her dad is in danger of losing his job. While Larry thinks a letter to the North Pole should fix the problem, Bob knows what will really help ... and tells the story of a little boy named Nicholas who made a discovery in Bethlehem that changed Christmas forever. But what did Nick learn and how can it possibly help Laura and her family?!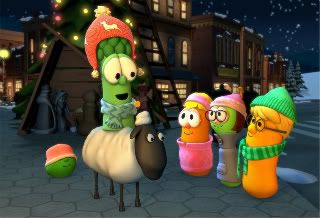 Saint Nicholas: A Story of Joyful Giving is the first new holiday DVD title to be released in seven years. It debuted on October 6th to the general market and features favorite characters such as Bob the Tomato and Larry the Cucumber. This DVD also introduced the first new VeggieTales character in five years, Nicky the Pepper.
Just like all of our other VeggieTales DVDs, Saint Nicholas was a huge hit. Evan stayed engrossed throughout the whole movie and hopefully learned some valuable lessons. I enjoy watching these shows with him because they are a great reminder of bible stories. Saint Nicholas also made me stop and think about how blessed I am and reminds me that Christmas is about giving. I think we could all use a chance to sit down with our family and watch this insightful DVD.
Veggie Tales is also offering a FREE DVD Gift with Purchase. When you purchase the Saint Nicholas DVD, there will be a offer inside. Log onto a special website and choose the free VeggieTales DVD that you want to send to a friend with only $2.99 shipping and handling.
Buy It!
VeggieTales Saint Nicholas: A Story of Joyful Giving
is available for $14.99.
This post was written for Family Review Network as part of a program for Big Idea, who supplied the DVD for review. This was not a paid post and honest opinions were used. The opinions are solely my own and may very from others.