Phew, I am worn out! We had a super busy weekend. We don't really go to pumpkin patches down here. There was one about 30 minutes away so we took Evan and Isabella to one on Friday. My Mom, Dad, and sister also went with us. Isabella hung out in her
BabyBjorn Carrier
again and was perfect the whole time.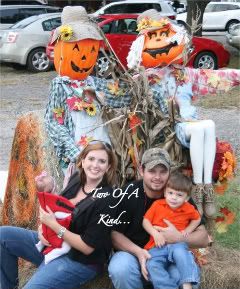 They had a Thomas on their playground.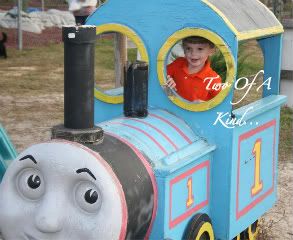 There were some animals. You can't see but there was a goat up in that house behind Andrew and Evan.
Here is a random picture of My mom, sister, Isabella, and I.
Then we went on the "haunted hay ride".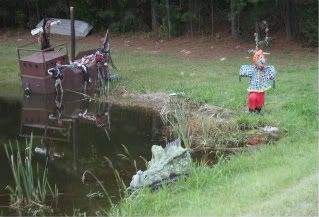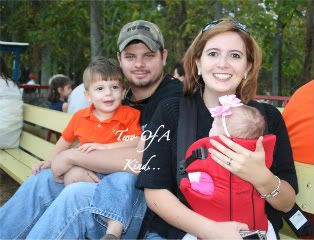 I kept forgetting to turn Isabella around for the pictures...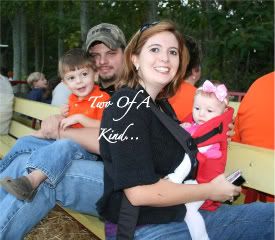 We had a lot of fun and the only way we could get Evan to leave is promising him to take our tractors out and hooking a wagon behind them. LOL..I guess we'll be taking hay rides at home.
My aunt came in town on Saturday to spend Halloween with our family. We went down to my moms and had fun with her. That night we got ready to go trick or treating. It was 79 degrees when we headed out at 6:30. We were going to put Evan in this cowboy costume since Isabella was a cow, but we decided to put him in the monkey instead since it was so hot.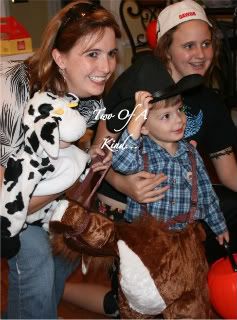 He did so good! He went up to houses and even said trick or treat. He was on a sucker kick so everywhere he went he got the suckers if they had them. A few people even said "what a cute little girl"! WHAT??? Girl?? THEN to make it worse, a few people thought Isabella was a boy. I have got to get her ears pierced!
Yesterday we went shopping with my aunt most of the day. Evan didn't get a nap yesterday so we went home as soon as she left last night. He went to bed pretty early.
I hope everyone else had a great Halloween. I'm going to go read some blogs now but if you have a Halloween/weekend post, leave your link here so I make sure I visit to read about it!