My baby is 3 months old-as of yesterday. I still can't believe that it has been three whole months since my sweet baby girl was born. I wanted to hold both her and Evan all day yesterday because I'm tired of them growing up. I just want to bottle them up the way they are now. Don't get me wrong, I look forward to all of the fun that is yet to come, it's just that this stage is flying by WAY too fast!
Here is a picture from Wednesday night after her bath.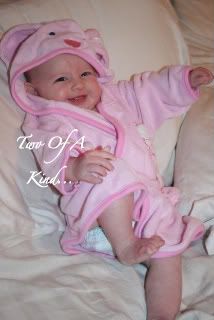 She's getting so big. Within the past week or so she's gone from just smiles and coos to actually laughing. I love when my babies laugh-it is the best sound in the world.
She is a thumb sucker. On one hand, I love it because when she cries, she just sticks it in her mouth and is satisfied. On the other hand, I can't take a thumb away. Evan used his paci starting at about 6 months and I was able to take it away at about 19 months without much of a fuss. I just don't want Isabella to be that 10 year old kid you see still sucking their thumb.
She is rolling all over the place and has since she was 7 weeks old. At times she'll even get her knees up under her and I want to pull them out and make her lay back down. She's growing too fast!
She likes to lay on her stomach with her little head up and looking around. Evan hated "tummy time" and she seems to always want to be on her tummy.
She's still sleeping through the night and most of the morning and afternoon. It's funny that with Evan we used to tiptoe around the house and now he's running through the room screaming while Isabella is peacefully sleeping in her swing.
Evan is really starting to want to play with her now. He will lay down on her mat and move her toys for her. He also tries to put his hats and other things on her. I hope they grow up to be great friends.
I plan on writing one of these every month so that I can look back and remember what she was doing at different stages.