I told you Thursday that I was going to try something new. I am going to answer some questions on here to help out. I get several questions asking how to do technical things such as number comments and I am sure there are more of you that want to ask but are too shy.
Feel free to send me an email or leave a comment below asking me any technical blogging questions(not answering questions on who my PR contacts are or things like that) OR any more personal questions about me or my family. If you've always wondered something about me-just ask!
This past week I said something about how to get the specific URL from your tweet so that you can leave it in a comment. As most of you know, retweeting about my giveaways are extra entries and leaving a comment with the link to your tweet helps me find it. Here's how you do it:
This is a screen shot of my twitter page. I cropped it so you could see a few tweets. See where it says about 10 hours ago from the web? You're going to click right there.

When you click on the part that tells you how long ago you posted, a screen like this will pop up with JUST that specific tweet. Just copy the URL(link) at the top and paste it into the comment section.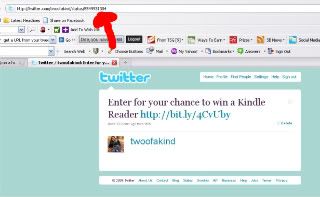 TADA-now you know how to link to your tweets! Let me know if any of that was unclear or you need more help!
Also, leave me a comment or feel free to
email me
with any other questions for next week.