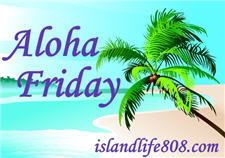 It's Aloha Friday over at
An Island Life
! Answer my question and make sure you post one on your blog! After that, go relax because today is Friday!!
My question for this week is:
Are you sentimental about things?
I am. Tears come to my eyes when I'm packing up the clothes that my kids can't fit in anymore. My play pen that I used with Evan was recalled and I'm supposed to cut the sides off and send it in. It's one thing to give something away that has so many memories, but to cut it up? It's still sitting there waiting for me to do it.