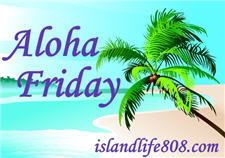 It's Aloha Friday over at
An Island Life
! Answer my question and make sure you post one on your blog! After that, go relax because today is Friday!!
My question for this week is:
Do you wear glasses or contacts?
I started wearing glasses when I was 10 and my mom let me get contacts in 6th grade. I wear contacts now. My vision gets worse every time I go to the doctor. I can only see colors without my glasses or contacts-everything is super blury!