I'm sure that most of you have noticed that I don't really post on the weekends. My husband is off and I have declared weekends as our "family time". If we're just sitting around the house, I might pop on to check emails and things, but I usually don't post.
I've decided that I'll write about our weekends on Mondays so that I can document things we do and you get a little more insight to our little family.
We spent all of Friday at the fair. It was BEAUTIFUL with the exception of the 20 minutes that it drizzled rain on us. We didn't go last year so this was the first time that Evan really got to experience it. We rode rides for HOURS and he had a blast.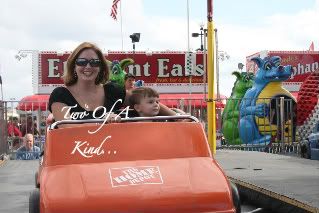 He LOVED this huge slide, but I quickly got tired of having to carry him up those steps OVER AND OVER again.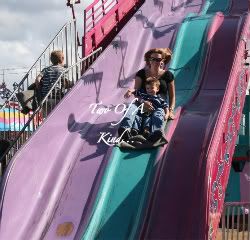 Here is my brother and sister...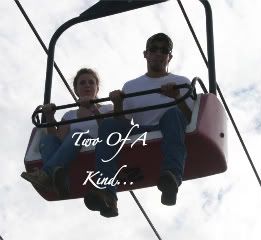 I was brave enough to let Evan ride this over the fair. He kept saying "WHOA"!
This train was the only ride that he did all by himself and he was a little unsure about not having me ride with him.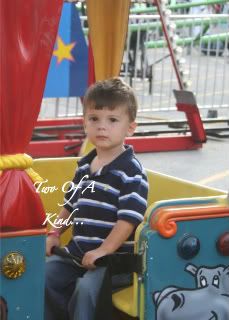 We walked around the fair and visited the animals.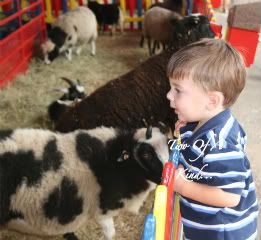 We didn't leave until 9:30 or so because my sister danced at 8:00 and we didn't want to miss that. Here we are after a LONG but fun day at the fair.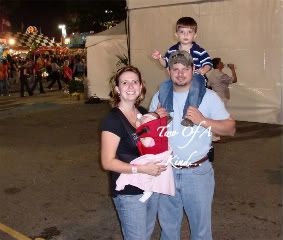 Isabella did AMAZINGLY well and loved being carried around in her
Baby Bjorn Original Spirit Carrier
. As I told you in my
Aloha Friday post
, I was worried about feeding her in public. I used my nursing cover and would duck into corners to feed her. One older gentleman made a big deal out of it once and I got mad that he didn't "approve", but I didn't back down and I fed my baby! I was completely covered and I was usually out of sight somewhere. I did have one mom come up to me and say that she wished she would have had a nursing cover when she was feeding her babies. I saw several moms who were just feeding their babies as they walked around the fair-I'm WAY too modest for that but applaud them for being able to.
Saturday we mostly drove around looking for a new truck. We sold my husband's and he's been looking for another one for about a month now. That night we went to my parent's house to eat wings and watch the game.
Sunday we didn't make it to church and spent a lazy morning at home drinking coffee and reading the paper. My mom and I went out to do a little shopping and to run a few errands after lunch. After we got back, we all sat around playing with Evan and Isabella. My favorite part of every weekend is being lazy and spending time with my family.