I am always in search of toys that I think Evan will play with over and over again. There is no point in having a toy that he will get bored with quickly. I also think about whether or not it is a toy that he and Isabella will be able to play with together one day.
Step 2
has a fantastic selection of toys that I am confident will keep Evan's attention. They are the nation's largest toddler toy manufacturer and marketer of high quality plastic products. Step 2 strives to create amazing products that will be enjoyed for years.
Step 2 sent us their
LifeStyle Grand Walk-In Kitchen
.
The LifeStyle Grand Walk-In Kitchen is 47.00H 36.25L 46.00W in size and weighs 60 pounds. It has gender neutral colors and is meant for children 2 and over. It features several modern designs such as "marble" counter tops and "stainless steel" appliances. The stove, microwave, and phone all make noise to enhance your child's imagination.
It arrived in these two large boxes. I admit that I was a little worried that this kitchen would be too big for us.
My husband took the parts out of the boxes and I felt better because it wasn't as big as I thought it would be. It is plenty big for Evan to sit in or for Isabella to fit in there with him one day. It only took my husband about 10 minutes to have it put together.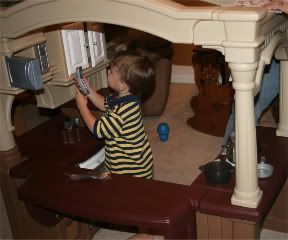 There are several stickers that have to be applied. This is a picture of my dad applying one of the stickers. He was actually putting it in the wrong spot and I am happy to report that it is pretty easy to take it off and move it if you make a mistake.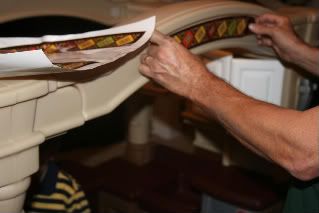 It came with all of these accessories. Evan can let his imagination run wild with all of the food he will be able to "make" us.
The stove makes a sizzling noise when the pan is placed on it. If you put the pitcher on, it makes a bubbling sound. They also light up!
The microwave and phone also have different sounds when the buttons are pushed. Evan walks around the house with his phone all day long.
It has cabinets under the stove and on top of the refrigerator that provide plenty of space for accessories. You can see the phone on the side of the kitchen beside the cabinets.
There are also two baskets beside the stove to store more "food" in. The drawer over the stove opens so that the utensils can be kept inside.
The refrigerator opens and has two shelves. Evan loves taking the food out and putting it back in. The oven even has a realistic removable rack. Evan keeps a bunch of food in there too. His favorite thing to put in the oven is pizza. Maybe that means I make too much pizza at our house.
The floor looks like hardwood floors but is made out of foam. It is super soft to walk on and I wish my kitchen had floors like that!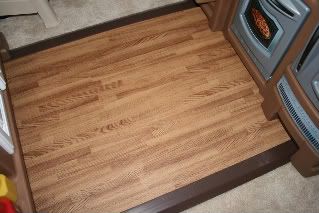 There is also a cute little bar stool so that one child can be inside serving the food while another child(or parent) is sitting on the stool waiting to be served. Evan gets a big kick out of it when I get in the kitchen(YES-I can fit too) and fix him "dinner". I almost wish there were two stools. There is plenty of room for another stool to slide under and one day I would be able to play with Evan AND Isabella in the kitchen.
We've had the kitchen for over a month now and we have played in it for many hours. It is something that both my husband and I enjoy playing with him. He loves to go outside and this kitchen is perfect on rainy or cold days because it keeps him entertained for so long. He is really proud of his cooking abilities and brings us several "meals" throughout the day.
It doesn't take up near as much space as I thought it would and I am completely happy with it. The look fits in well with our decor and I'm actually a little jealous because I think my kids' kitchen is cooler than my real kitchen! It makes me happy to think of all the time we will be able to enjoy as a family with the Grand Walk-In Kitchen.
Step 2 has teamed up with Frigidaire for a
contest
. They are trying to get families to spend time together and want to know how you promote creativity in the kitchen. By submitting an essay of 250 words or less, you could win a dream kitchen for your home and a play kitchen for your child. Click
HERE
to enter and get more details.
Be sure to check out
Step 2
for all of their other amazing products that are sure to keep your child's imagination going.
Buy It!
You can purchase the
Step 2 LifeStyle Grand Walk-In Kitchen
for $249.99.
Win It!!
Step 2 is giving one of my readers a LifeStyle Grand Walk-In Kitchen!
To enter, visit
Step 2
and tell me what other product you think would make a great Christmas present.
This is required and must be done before the extra entries count!EXTRA ENTRIES!
You can do any of these things for an extra entry. Make sure to leave a separate comment for EACH thing you do.
1- Subscribe to my blog via email OR follow my blog via google friend OR follow in a reader(look under where my buttons are). Leave a separate comment for each that you do(you get an extra entry for each).
2- For TWO extra entries, blog about this giveaway and link it back to this post and
Step 2
.
3- Follow
Twoofakind
AND
Step 2
on twitter and tweet about this giveaway.
You can Tweet once a day for an extra entry every day!
You can copy and paste:
Day 1 of #mistletoemadness WIN a Step 2 Grand Walk-In Kitchen valued @ $249 @twoofakind http://bit.ly/4CvjDD
4- Become a fan of Step 2 on
Facebook
.
5- If you put the Mistletoe Madness button up BEFORE Nov 1st and commented on
this post
, you get TWO extra entries. If you put the button up on or after Nov 1st, you get 1 extra entry.
6- Become a fan of Two Of A Kind on
facebook
.
7- Go enter the
Plan Toys Giveaway
on Jennifer's blog.
Contest ends at 11:59pm EST on November 25th when I will draw a winner at random. PLEASE leave your email address if it is not visible on your profile. I will notify the winner and they will have 36 hours to respond!
Open to US Only.
This was not a paid post and honest opinions were used. The opinions are solely my own and may very from others. Thank you to Step 2 who supplied the products for the review and giveaway.