I had no clue that October is also SIDS Awareness Month. As parents, our number one priority is the safety of our children. We want to make sure we do everything in our power to reduce the risk of any danger.
When
Halo
asked me to join them in bringing awareness to SIDS, I jumped on the opportunity. It broke my heart when I learned that Bill Schmid, the founder of Halo, lost his daughter to SIDS. In 1994, he designed the Halo SleepSack wearable blanket to protect babies from SIDS.
Halo sent us the
HALO Micro-Fleece SleepSack
in small and the
HALO SleepSack Plush Dot Swaddle
in the newborn size for Isabella.
Babies like to kick and regular blankets come right off. I always had problems keeping Evan swaddled and wish that I would have had the Halo SleepSack for him. After learning more about SIDS, I will never put another blanket in the crib with Isabella.
The newborn
HALO SleepSack Plush Dot Swaddle
is the one that we're using the most right now because she likes to be swaddled. The newborn size is for babies up to 23"(she's a little longer than that, but still fits) and 12 pounds. It is a 2 in 1 sleep sack. You can use it with the swaddle to keep arms tucked in, or take the swaddle off and use as a regular SleepSack. It is made of 100% flame-retardent polyester fleece and is amazingly soft.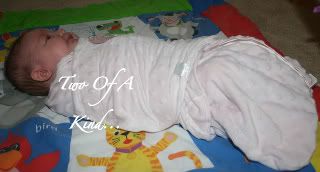 The Stay-Fixed™ Velcro® loops secure the swaddle to the wearable blanket so you never have to worry about it coming off. Once the swaddle is attached to the Velcro loops, you wrap it around the baby and velcro. It never comes loose and baby stays snug. There is also a seal on the front left of the blanket that says "back is best" to give caregivers a friendly reminder to always lay baby on their back.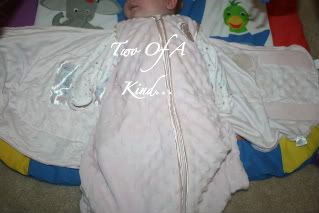 Isabella LOVES to be swaddled and sleeps much longer at night in the SleepSack Swaddle than she does in the regular SleepSack. The swaddle feature prevents the startle reflex so she won't wake herself up. My other favorite feature is the inverted zipper that makes diaper changes a breeze since you don't have to unzip the whole SleepSack.
The
HALO Micro-Fleece SleepSack
was sent to us in a size small. The small fits babies that are 23"-26" and 10-18 pounds. Just like the SleepSack Swaddle, it replaces loose blankets and makes sleeping safer for babies. It reduces the risk of rebreathing (the inhalation of carbon dioxide), which has been associated as a possible cause of sudden infant death syndrome.
Isabella looks absolutely adorable in her Pink Daisy SleepSack. It has the same inverted zipper and "Back Is Best" seal as the Swaddle version. It keeps her warm and allows her enough room to kick her legs. Her arms are free so that she can play and suck on her thumb when she wants to.
I feel much better having Isabella sleep in her Halo SleepSacks. I plan on buying 2 more of the Swaddle SleepSacks in a size small since she still likes to be swaddled and even when she gets tired of being swaddled, I can take it off and turn it into the regular SleepSack. To learn more about SIDS, visit
Halo's Facebook Page
.
Buy It!
The
HALO Micro-Fleece SleepSack
and
HALO SleepSack Plush Dot Swaddle
are both $29.95.
Win It!!
Halo is giving my readers their own HALO SleepSack!
To enter, visit
Halo
and tell me what your favorite product from their site is.
This is required and must be done before the extra entries count!EXTRA ENTRIES!
You can do any of these things for an extra entry. Make sure to leave a separate comment for EACH thing you do.
1- Subscribe to my blog via email.
2- For TWO extra entries, blog about this giveaway and link it back to this post and
Halo
.
3- Follow me on
Twitter
and tweet about this giveaway.
You can Tweet once a day for an extra entry every day!
You can copy and paste:
Reduce the risk of SIDS and WIN a @HaloSleepSack @twoofakind http://bit.ly/302Yi #giveaway
4- Become a fan of Halo on
Facebook
.
5- Follow Halo on
Twitter
.
6- Follow my blog via google friend.
7- For FIVE extra entries, purchase anything from
Halo
before the end of this giveaway!
Contest ends at 11:59pm EST on November 4th when I will draw a winner at random. PLEASE leave your email address if it is not visible on your profile. I will notify the winner and they will have 36 hours to respond!
Open to US Only.
This was not a paid post and honest opinions were used. Thank you to Halo who supplied the products for the review and giveaway.