As parents, we are always looking for ways to save money. My favorite way is to buy products that serve more than one purpose. I am always willing to spend a little more for high quality products that I can use for more than one thing.

Aeromax
has a fantastic selection of
Get Real Gear
. With these high quality dress up outfits, your child's imagination will soar. You can find everything from Astronauts to Doctors at Aeromax.
Aeromax sent us the Jr. Fire Fighter in yellow for Evan.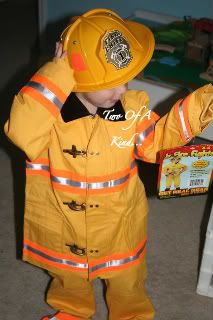 The Jr. Fire Fighter is available in yellow, black, tan, and blue. It includes and adjustable hard helmet, adjustable bib overalls, adjustable suspenders, and coat. The overalls have several pocket ans knee patches made to look just like a real fire fighter. The coat has a zipper and then buckles on top of that. It also features authentic gauntlet cuffs, pockets, and reinforced elbow patches. It can be ordered as small as 6 months or as large as the adult size.
Not only does the Fire Fighter outfit make dress up more fun, it could also serve as a Halloween costume. Most Halloween costumes are light weight and poorly made. I was amazed with the quality of our Aeromax outfit. It is really thick and I know that it will last for years.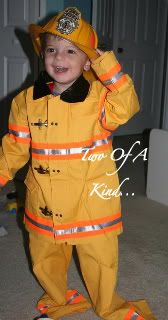 I ordered it in a size 4/6 because I wanted him to be able to wear it for a while. I think once Isabella starts wanting to dress up in her princess costumes, Evan will want to dress up too. It's pretty big on him right now, but that doesn't stop him from playing in it.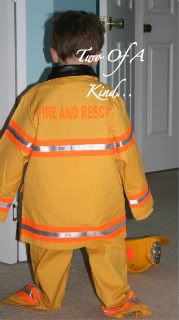 I love that the hat is adjustable so it can be made to fit any size head. He is always wearing that hat. Even though he's played hard with that hat, it still looks brand new. It is made of hard plastic and is meant to last. You can see that it's been thrown to the side in this picture, but is still holding up amazingly well.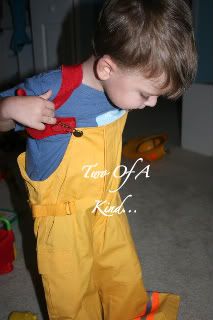 Be sure to check out
Aeromax
to see all of their dress up gear!
Buy It!
The size 4/6
Jr. Firefighter
in Yellow is $59.95.
This was not a paid post and honest opinions were used. The opinions are solely my own and may very from others. Thank you to Aeromax who supplied the product for review.