My BABY turned 2 months on Monday-where has the time gone? She had her 2 month well baby visit today and I wanted to write post so I'd always know where to find her stats! I also never want to forget what she's doing at each stage.
She is 10lbs 7oz(30%) and 23.75inches(90%) with her head at 14.75inches(15%). The nurse freaked out and got everyone to come look at her when she rolled over. They were very surprised to learn that she has been rolling over from being on her back to her front since she was 7 weeks old.
She smiles ALL the time. She loves to talk to us and her toys.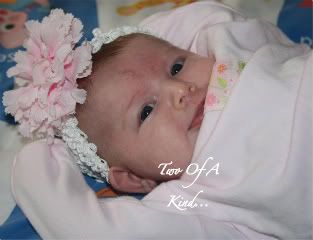 She's not a fan of her carseat but LOVES riding in the car. She stops fussing as soon as the car starts and almost always falls asleep.
She is still sleeping through the night. She has had a few nights where she wakes up wanting to eat, but usually she's down for good by 11pm and doesn't wake up until after 7am. She sleeps most of the morning and afternoon and is awake from about 8pm-11pm talking and playing.
Evan LOVES to be around her. He gives her nonstop kisses. Here is a picture of the two of them in their
Bumbleride stroller
. It is sometimes hard to have them in the side by side stroller because he won't leave her alone.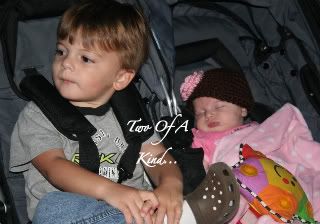 I plan on taking more pictures of her today and will post them soon if they turn out OK. Here is one that I took today after her appointment.