Even though I have two small children, I often go out with just one of them. Evan is not a fan of shopping and Isabella will need to stay inside when Evan and I go on walks this winter. I need a single stroller that is comfortable for me as well as the child that is along for the ride.

This year,
Easy Walker
introduced their newest model, the
Easy Walker QTRO
. They need help coming up with a slogan for their new stroller and have asked if my readers can come up with any ideas. For example, the slogan for their DUO stroller is "Double The Fun".

I'm going to introduce you to the QTRO and feel free to let me know if you have any ideas for what their slogan should be!
Easy Walker sent me the
QTRO
in Aqua to try out.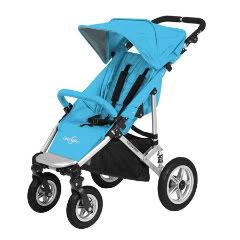 The EasyWalker Qtro is a 4-wheel stroller that was designed to provide excellent performance on any surface. They've though of as much as possible to make sure that both the child and parent are comfortable. There is an adjustable footrest for the child and height adjustable handle bar for the parents. There is full 4-wheel suspension and the light weight aluminum frame can be folded very small. It can hold up to 60 pounds which means this is a stroller than can be used for many years.
The Easy Walker QTRO arrived in this box.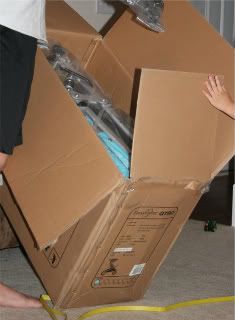 The seat part was whole, but the rest came in pieces. In this picture you can see the front wheels in comparison to Evan's leg. There are two 8 inch swivel wheels that can also be fixed in place. The all air-filled tires and suspension on all wheels make riding comfortable for the child. The large wheels make riding on any surface easy.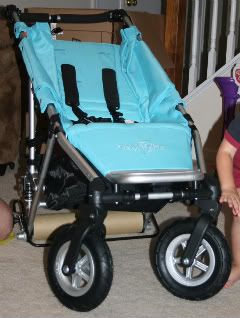 The stroller has an adjustable footrest so that no matter how long your child's legs are, they are comfortable. You can even change a diaper by laying the child back horizontally and bringing the footrest up.
The seat is reinforced and adjusts to 4 positions using the zippers. The zippers are pretty easy to use, but I wish that it was just something you pulled on instead. There are several compartments on the back of the seat where you can store whatever you need to.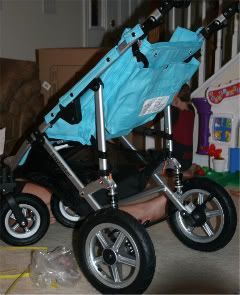 The sun canopy has a window where you can easily view your child while walking. There is also an extra UV protective shield that fiters 90% of the sunlight.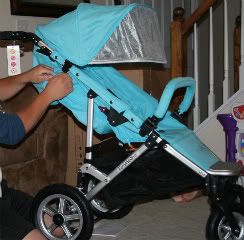 The Easy Walker QTRO has several other optional accessories including: carrycot, car seat adapter, foot muff, nursery bag, parasol, running board, mosquito net for the seat, travel bag and an organizer/cup holder. With the optional carrycot, this stroller is perfect from birth to age 4. I personally think that the organizer/cup holder and car seat adapter should be included in the basic version instead of being optional accessories. Those are things that are must haves here. I can't use the stroller with Isabella yet because I can't put the car seat in the stroller unless I buy a separate car seat adapter. I could lay the seat back and put her in it, but if she's asleep in her car seat, I don't want to take her out.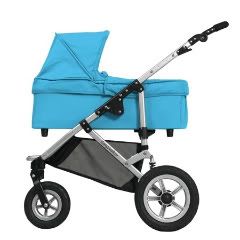 Overall, we are very happy with this stroller. It maneuvers better than any stroller I've every had and I can even take Evan down trails in the woods. We go to the beach a lot during the summer and I am sure this would do well on sand. There is a large storage basket and we get a lot of use out of the storage compartments on the seat. I do wish that it was a little lighter. It weighs 26.5 pounds which is only 2.5 pounds less than what one of my double stroller weighs. However, I absolutely love the look of the stroller and know that things like large, air filled tires and suspension can quickly add weight.

Now that you know more about the stroller, do you think you have an idea for a slogan for the Easy Walker Qtro?
Feel free to become a fan of
Easy Walker on Facebook
so that you can stay up to date on their products.
Buy It!
The
Easy Walker QTRO
sells for about $550. You can visit their
dealer page
to find where you'd like to purchase it from.
This was not a paid post and honest opinions were used. Thank you to Easy Walker who supplied the product for the review.