I took my 3rd class last Thursday. We took a dozen cupcakes and practiced decorating them different ways. Thursday was also my brother's birthday and I met my family out to eat before I went to my class. I rushed to get out the door and I totally forgot to take my kit! I remembered the icing and cupcakes-but forgot all of my tools.
My teacher and other people in the class were nice enough to loan me their tips and things so that I could practice too. I didn't participate as much because I didn't have everything that I needed.
We learned how to make figures and clowns. This is a picture of a bear face. Again, I didn't have everything that I needed, so this was the best that I could do.
Here is the clown body-but I left the head at home.
My aunt came in town Saturday and we decided to celebrate my brother's and my aunt's birthdays together. I decided to do a red velvet cake even though cream cheese icing is a lot harder to work with. My husband took a few pictures for me. Here is a picture of Evan asking me if he could help.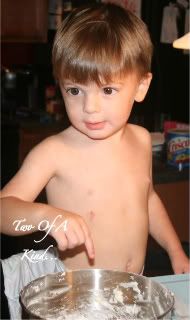 And here he is playing with the icing.
This is where he reached over and tried to help-OOPS.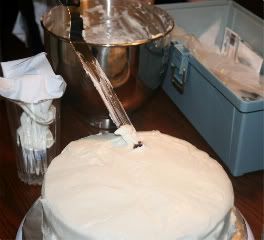 Here is the finished cake. It was pretty hard to get the cream cheese icing thick enough to create figures with and this was the best that I could do. My mom told me just to do clowns because I didn't have much time to make the cake that morning. I wish I would have had more time to make the colors how I wanted, but I was in a rush. The cake tasted amazing!
I'm supposed to take the last cake class in the course tonight, but I don't think that I'm going to go. The babies tag teamed me last night and I got about 3 hours of sleep. I'm SOOO tired and I honestly miss my kids way too much while I'm gone. Everyone told me to take the class for some "me" time, but I don't like "me time". I'd rather be with my kids any day!
Tonight we're supposed to finish learning roses. We already started learning them and I think that I'll be able to finish on my own. I can look at the pictures and look up a tutorial online if I need any extra help. I did make a cake last night so I'll try to decorate it on my own even if I don't go to my class.