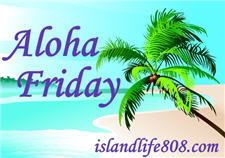 It's Aloha Friday over at
An Island Life
! Answer my question and make sure you post one on your blog! After that, go relax because today is Friday!!
My question for this week is:
Do you like/watch scary movies? How do you feel about Haunted Houses?
Even though I KNOW it's just a movie-I freak. I just don't like scary movies so I tend not to watch any. I KNOW the people in Haunted Houses are just people like me dressed up, but I can't go to them! The last one I went to was my first year in college and I really don't plan to go to another one-unless there is someone on each side of me and one in front and behind me as well.