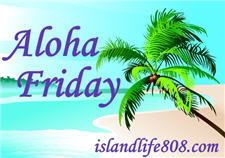 It's Aloha Friday over at
An Island Life
! Answer my question and make sure you post one on your blog! After that, go relax because today is Friday!!
My question for this week is:
How do you feel about breastfeeding in public?
I'm REALLY modest and have only breastfed Isabella 2 times in public and I definitely had a nursing cover. Today we're going to be outside ALL DAY and I don't want to take pumped milk because it is supposed to be warm outside and I don't want any of it to go bad. I don't mind when other people breastfeed in public at all, but I just hate doing it! I feel like everyone is looking at me. I need some nursing shirts-maybe that would make me feel more comfortable.