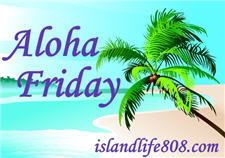 It's Aloha Friday over at
An Island Life
! Answer my question and make sure you post one on your blog! After that, go relax because today is Friday!!
My question for this week is:
Is there something that you've never seen, but would like to?
I've never seen the sunset on the west coast. I've seen the sun rise on the east coast...but would love to see the sun set on the west coast.
I've also never seen anyone change those big billboard signs that you see on the interstate and I really want to. Seriously-who's job is that? I hope they're getting paid A LOT to be up there changing signs. How do they do it?