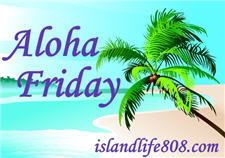 It's Aloha Friday over at
An Island Life
! Answer my question and make sure you post one on your blog! After that, go relax because today is Friday!!
My question for this week is:
How do you feel about the time changing?
I know that some people are looking forward to it, but I'm dreading it. I do not like it being dark out at 6pm. It will be dark as soon as hubby gets home and we won't get to do anything as a family outside!