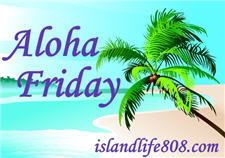 It's Aloha Friday over at
An Island Life
! Answer my question and make sure you post one on your blog! After that, go relax because today is Friday!!
My question for this week is:
What is the weather like where you live?
Last week we were still playing in the water and this week I'm putting long pants on Evan at night! At night it is in the high 50's-low 60's. Around lunch time until about 6 or so it is in the 80's.