I am the featured blogger for
SITS
today!
I want to give a big welcome to all of my fellow
SITStas
and if you're here and have never been to SITS, go check them out!
If this is the first time you've ever been to my blog, kick off your shoes and stay a while! Even if you're a regular reader, feel free to grab a cup of coffee and learn a little more about us(if you need a new coffee maker, be sure to enter my
Keurig Platinum Brewer Giveaway
).
My name is Dee and this is my my little corner of the blog world. I'll introduce you to my family first. This is a picture of my husband Andrew and I before we had babies. We went to high school together and he actually lived behind our hosue(through the woods and over the creek). We got engaged when we were 19 and were married shortly after we turned 20. Our 4 year anniversary is next month and I'm still madly in love. You can read a little more about what is going on in our life on my last
update post
. Check back tomorrow to see how my first cake class went!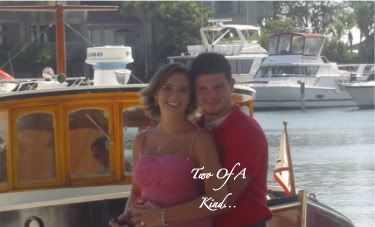 I've always known I wanted children. I'd actually have a dozen or so if my husband would allow it. We decided we were tired of just being "Two Of A Kind" and wanted to work on making a "full house".We were thrilled when we found out we were pregnant shortly after our 1 year anniversary.
Evan
was born in Aug 2007 and just turned 2. He is full of life and never sits still. There is never a dull moment when he is around.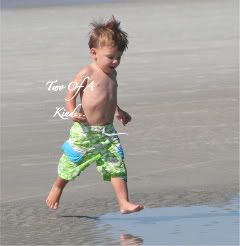 After he was a year old we decided it was time to add to our family. We were over the moon excited when we found out that we would be having a little girl. Isabella was born almost exactly 2 years after Evan in August of this year. She is 6 weeks old and is a fantastic baby. She started sleeping through the night about 2 weeks ago and only cries when she's hungry(or when her big brother is bugging her).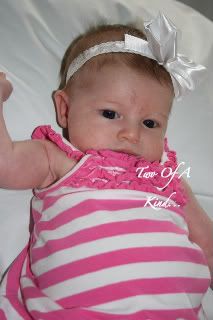 We fall more in love with our babies every day and it makes me sad to think how fast they are growing up.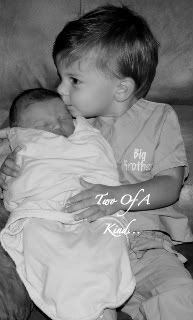 Before I became "Mom", I was a manager in retail. I worked up until the day I had my son, but have been a SAHM ever since. I decided to start blogging last October and am so excited to have found something that I am so passionate about. I knew I wanted to be a SAHM, but I really missed interacting with other people and actually having a voice. I've been fortunate enough to work with some amazing companies to bring a few hundred product reviews and giveaways to share with my readers.
Feel free to check back often because I am always adding new reviews and giveaways. My current giveaways are listed on my sidebar along with their end date. I have also teamed up with Jennifer to provide our readers with a gift guide for everyone on their list. Our event is called
Mistletoe Madness
and will kick off in November.
I don't want to overload you with too much, so take a look around and let me know if you have any questions!
Thanks for stopping by and ya'll come back now, ya hear?
Don't forget to enter the giveaways listed on my sidebar while you're here!