I already miss being pregnant. Is that crazy? I was so much more confident with this pregnancy because I wore stylish clothes that fit me better. I dressed more frumpy with Evan because I thought you had to wear loose clothes. While pregnant with Isabella, I got so excited when I would find a new website that had adorable maternity clothes.

Wonder Mummy
is a website that is full of adorable maternity clothes. Their maternity clothes were inspired by a love of bumps and babies. The team has worked hard to create stylish and practical clothes for all mommies. Their maternity and nursing clothes have all been tested by moms like me to ensure the best.
Wonder Mummy sent me the stretch shirt, camelia tunic, mono skirt,and the sleeveless dress for review.
I probably got the most use out of the
Stretch Shirt
. It is completely versatile and can easily be worn with a skirt to church, or with jeans for a casual look. The fabric was very light and stretchy so I was always comfortable. I normally wore it with jeans and accessorized with a large necklace. I was 37 weeks in this picture and I was HUGE.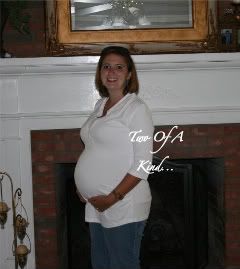 I absolutely adored the fabric that the
Mono Skirt
was made of. In this picture, it is paired with the Stretch Shirt and looks great. Unfortunately, it didn't look as cute when it was on me. It was the wrong length for my height and shape and it ended up looking like a bag on me. Everyone is shaped differently and this skirt was not flattering on me. I was disappointed because I absolutely love the print. It would make a great skirt for post pregnancy as well. The waist is made of cotton fabric and is adjustable.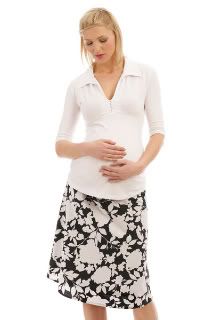 I also seemed to wear the
Camelia Tunic
a good bit. It was light and airy. I wore a tank top underneath it and stayed cool. It can also be dressed up or worn with jeans. Since I don't work, I mostly wore it with jeans. I wish I would have had this tunic when I was pregnant with Evan and working. I got several compliments while sporting the tunic. I was 37 weeks pregnant in this pictures as well.
I didn't wear the
Sleeveless Dress
much when pregnant. I felt a little self conscious in it since I was so huge. I wish I would have had it during the beginning of my pregnancy because I would have worn it a lot during the beginning of the summer. It is the perfect length and I have worn it several times since having Isabella. The neckline makes it where you can also use it as a nursing dress.
Check out Wonder Mummy for a fantastic selection of
Maternity Clothes
and
Nursing Clothes
.