With two small children, a double stroller is a must have item. I can't risk having my son run off while I tend to the baby. The only problem is that double strollers can be very large or heavy. Finding the perfect stroller to fit your needs is a must.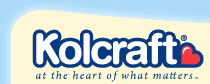 Kolcraft
has different options including the
Contours Options Tandem Double Stroller
. Kolcraft was created in 1946 and has been a name that parents have grown to trust. Kolcraft carries a fantastic selection of products including: Playards, High Chairs, Walkers, Strollers, Bassinets, Bouncers, Swings, and Juvenile Furniture. They are now the #1 Crib Mattress manufacture. Kolcraft has also partnered with Sealy®, Sesame Beginnings™, Jeep®, and Nascar® to bring the best in children's products.
Kolcraft sent us the
Contours Options Tandem Double Stroller
to use with our children.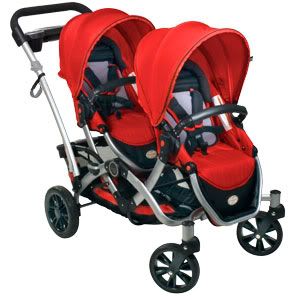 The Contours Options Tandem Stroller has tons of options. It is perfect for two infants, an infant and a toddler, two toddlers, or just one child. This stroller has the most options that I've seen because the Seats Easily Reverse to create 6 different stroller options. In the picture above, you see that the two seats are facing out. They can also be turned to face each other.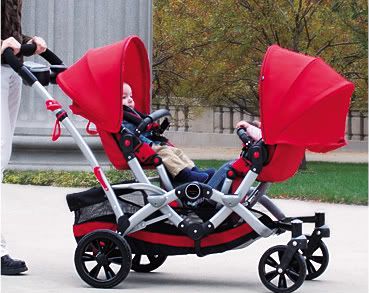 If you want to keep a close eye on both children, you can turn them both to face you.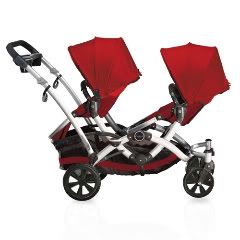 If you need a ton of storage space with one child, you can use this option.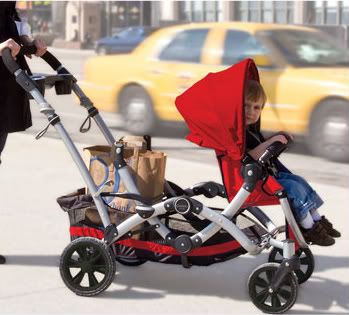 This is the way we're using it right now. We put Isabella's car seat in the attachment that is included with the stroller and face Evan's seat out. It makes having them out in stores so much easier with a stroller that is front/back instead of side by side. We fit through store aisles easier and the stroller fits in the back of my car better. The only thing that I don't like about the seats in this option is that I can't recline Evan's seat because Isabella's car seat is so large and prevents it. I also don't like not having an additional sun shade so that Isabella is covered from the back of her car seat AND the front. We have to put a blanket over her to keep the sun(and unwanted strangers) out of her face.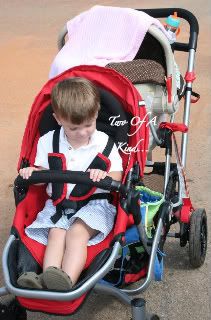 The infant car seat attachment fits most car seat brands on the market. There is even an
additional car seat attachment
that can be purchased for twins. You would just put the additional attachment on the front instead of the red seat.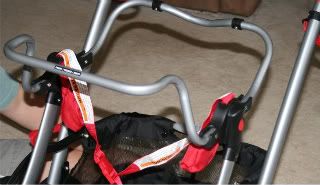 Both seats can recline for naps and comfort.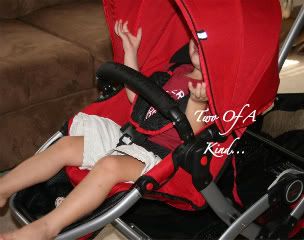 The stroller is easy to maneuver with two 8" front single swivel & 10" rear never flat wheels.
I absolutely love that there are two cup holders and a covered tray. My husband and I can both put our drinks in there and have somewhere to keep our keys and/or cell phones.
To fold up, you need to take off the front seat or both seats. Even though that is a hassle, it is really easy to take the seats off. Simply push the red button on both sides and pull the seat up.
With the front seat off, or both seats if you're using the infant attachment, it folds really small. It can even stand up on its own.
We used it at a parade on Labor Day and it was very easy to steer through the crowds. If you look close on the back, you can see a strap with a handle. There is one on each side so that older children can hold on to walk beside the stroller.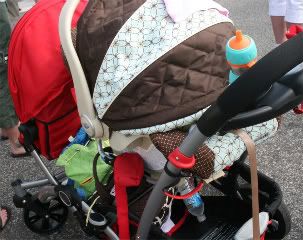 Evan loves having his own canopy. Pulling it back and forth keeps him occupied in stores.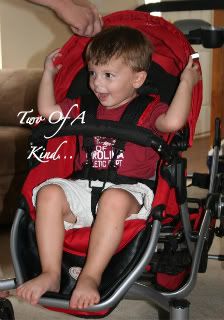 Overall, we are very pleased with this stroller. It is the one that I use the most because it is thinner than side by side strollers. I have used it several times with ease when I am by myself with the kids. I wish you didn't have to take the seats off for it to fold up as compact as possible, but like I said, it isn't that hard to take the seats off. As Isabella gets older, I think having the option of turning the seats around will be fantastic. I also think the two side handles for older children to hold onto was very thoughtful. It's easier to be out in public with multiple children if the older ones can hold on to the handles and you know they're going to stay beside you. I would definately recommend the Contours Options Tandem Stroller to any parent.
Buy It!
You can purchase the
Contours Options Tandem Double Stroller
for $249.99. The
additional car seat attachment
can be purchased for $29.99 if you have twins.
Stay tuned for a giveaway sponsored by Kolcraft during the Mistletoe Madness event!
This was not a paid post and honest opinions were used. Thank you to Kolcraft who supplied the product for review.