I wanted to say I'm sorry. I'm sorry that I haven't been visiting as many of your blogs as often as I had been. I was feeling like a part of many of your families because I was reading stories and seeing pictures on your blogs every week. I fell off the wagon in July when I was HUGE pregnant and only had time to get online and set things up for my Baby Bash. Then I had my sweet baby girl and it has taken time to adjust to being a family of 4 while keeping up my blog at the same time.
I used to be really good at responding to all comments, but I've been slacking there too. AOL only lets you have 1000 emails in your inbox and then it stops sending them so I had to set up a yahoo account for my blog comments to go to. As you can imagine, I have about 35,000 in there right now because of giveaway entries. I do delete them regularly, but I still don't get to all of the comments on my personal posts. I promise to start being better at logging onto my twoofakind868@yahoo.com account more often to respond to comments, but remember that I used to send them from twoofakind868@aol.com so these might go to your spam.
I'm also slacking on posts telling you what is going on with us. I'll tell you a little about our life right now and I promise to visit your blogs more often.
Isabella is 6 weeks old today. I'm not really sure where these past weeks have gone and it brings a tear to my eye to think about how fast she's growing. She has been sleeping through the night for a few weeks now and is so calm(DEFINATELY different than Evan was). She goes to bed at 10:30 and wakes up to eat about 7:00 and then goes back down until about 9:00 or so. Here is a picture that I snapped of her today. I want to thank
Jen
for sending me a new white bow when she heard that I had lost my other one!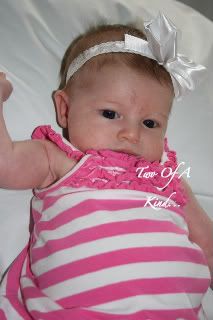 Evan is in my Wordless Wednesday post. I took that picture this weekend. We are almost done with potty training! I REALLY decided to start doing it just two days ago and he's now telling me when he has to go and we've only had one accident today. He loves his little sister to pieces and can't give her enough hugs and kisses.
Hubby and I are doing great! We're just loving every minute that we have with our babies. I started a cake decorating class last Thursday and I am so excited about it. Last week we only learned what the different tools did, so there was nothing to post. I am making my first cake tonight and I'll decorate it in class tomorrow. I will definitely post a picture no matter how horrible it turns out!
I am excited to start reading everyone's blogs again because I have REALLY missed you guys(or as we'd say here-I've missed ya'll)!!