It can be hard to find healthy snacks that children actually like to eat. Did you know that almost 17% of American children are considered obese? As parents, we need to try and find healthier options for our children. Evan's favorite snack is chips. He asks for them all the time and I have been trying to find a healthy alternative.

Funky Monkey Snacks
combines the taste and nutrition of fresh fruit with the crunch of many favorite snacks. They freeze dry full slices and pieces of fruit using a unique process that locks in the taste, smell, and nutrients of fresh fruit. Each ounce of Funky Monkey Snacks has 3 servings of real fruit.
Funky Monkey sent us their 4 flavors to try: Bananamon (banana and cinnamon - a personal favorite of mine), Carnaval Mix (banana, pineapple, apple, papaya and raisins), Jivealime (pineapple and lime juice) and Purple Funk (banana and acai berries).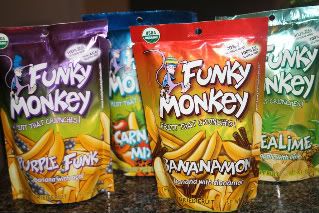 These snacks are 100% natural and contain no artificial colors, flavors, or preservatives. Other dried fruit snacks do not preserve the nutrients of fresh fruit and contain added sugars. Not only are they healthy, but the packages are bright and colorful so that they appeal to children.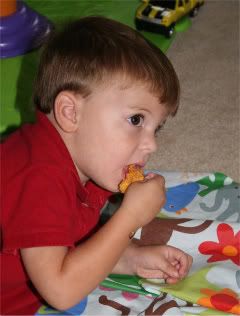 I love that they come in these little pouches that I can easily throw in the diaper bag to have when we're out and he needs an easy snack. They aren't messy like fresh fruit, but are just as healthy. We both liked the Bananamon flavor the best. Evan was not a fan of the Jivealime at all, but enjoyed the other flavors.
You can check their website for a list of
retailers
where you can purchase Funky Monkey Snacks online and in stores.