I have been using cloth diapers with Evan for a few months now and can't imagine how much money it has saved us. I've tried to get all onesize diapers so that I can use them with Isabella as well. Isabella has not started with cloth diapers yet because I was waiting until she was over 8 pounds. It will be nice to have a large stash of one size now that I'm about to have two in cloth diapers.
Cloth Diaper Outlet
is owned by Heather, a work-at-home mom. She carries several different brands of cloth diapers including: BumGenius, Fuzzi Bunz, Knickernappies, Happy Heinys, Kissaluvs, Bummis, Thirsties, Prorap, Dream-Eze, Snap-Ez, and more. Even though their name is Cloth Diaper Outlet, they also have several other products for mom and baby. They have personally tested everything on their website and only sell what they use and love for their family.
Heather sent us the
Knickernappies Onesize Diaper
in brown. It is gender neutral so it can be used with both children! Here is the diaper in pink so that you can see everything that it comes with.
Knickernappies Onesize Diaper
is made in the US and is the only side-snapping diaper. It comes with two microfiber inserts or the loopyDo insert and has been tested to fit babies 8-40lbs. It has four size adjustments that you can see pictured below to find the best fit for your baby. Lastin elastic is used in the legs and is long lasting so it won't "go out" like regular elastic. There is a Two Year Guarantee on the elastic and snaps.
I've really enjoyed working with Cloth Diaper Outlet for this review. Her website has all of the information that you need to make the best cloth diaper decisions for your family. If you're
new to cloth
, Heather has a great section that answers several common questions. She suggested that I should try the Knickernappies since they are new and I've been very impressed. I felt confident that she wouldn't suggest a diaper that I wouldn't enjoy.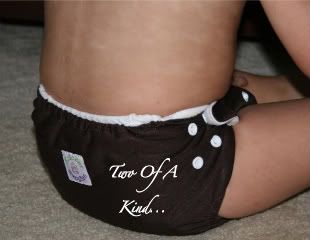 We have used the Knickernappies Diaper several times and I love it. It has several different snaps so that I could find what combination fits Evan the best. It fits his waist and legs perfectly. It is not bulky and we can fit his pants over the diaper with ease. We've used it during the day and overnight with absolutely no leaks.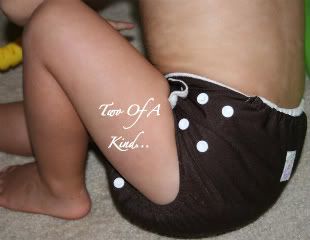 I really like that the snaps are on the side. Evan has been all about taking his diapers off and he doesn't try with these since the snaps are out of his sight. It is also harder to take off snaps than velcro. I haven't used them with Isabella yet, but plan on starting soon. I saw a review on their website where a woman was using them with her 3 month old and 4 year old and they worked wonderfully.
Be sure to check out
Cloth Diaper Outlet
for their fantastic selection of cloth diapers, accessories, other baby gear, and products for mom.
Buy It!
You can purchase the
Knickernappies OneSize Diaper
for $18.95. Shipping is free on orders over $50.
Win It!!
Cloth Diaper Outlet is giving one of my readers a Kickernappies Diaper in their choice of color.
To enter, visit
Cloth Diaper Outlet
and tell me another item that they carry!
This is required and must be done before the extra entries count!EXTRA ENTRIES!
You can do any of these things for an extra entry. Make sure to leave a separate comment for EACH thing you do.
1- Subscribe to my blog via email OR follow my blog via google friend OR follow in a reader. Leave a separate comment for each that you do.
2- For TWO extra entries, blog about this giveaway and link it back to this post and
Cloth Diaper Outlet
.
3- Follow me on
twitter
AND Tweet about this giveaway.
You can Tweet once a day for an extra entry every day!
You can copy and paste:
Win a Knickernappies Cloth Diaper @twoofakind http://bit.ly/Oq8hH #clothdiapers
4- Become a fan of Two Of A Kind... on
Facebook
.
5- Become a fan of Cloth Diaper Outlet on
Facebook
.
6- For FIVE extra entries, purchase anything from
Cloth Diaper Outlet
before the end of this giveaway.
7- Enter the
Melissa & Doug
Giveaway.
Contest ends at 11:59pm EST on September 25th when I will draw a winner at random. PLEASE leave your email address if it is not visible on your profile. I will notify the winner and they will have 36 hours to respond!
Open to US Only!