As promised, I will be posting about my adventures with cake decorating! I took the first class almost 2 weeks ago, but we were just going over the icing recipe and what tools we'd need. I thought I'd just combine the post since there was no cake in class 1.
I had the option of purchasing the student kit that was under $20, or the 101 piece Wilton Kit that basically has everything that I'll need for most of the courses. It all came in this caddy so I used a 50% off coupon and ended up getting it for $80. It has several tips, bags, couplers, colors for icing, and other tools that I would have ended up buying anyway. In the first class we just went over what everything in this kit does.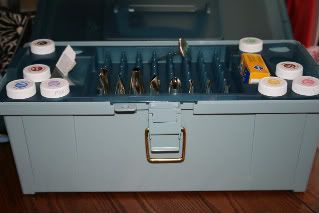 Now on to class 2! We were given a recipe for the icing and told to bring in a cake that was already made and had icing on it. I made it the night before and got a little discouraged because I was constantly being interrupted. Hubby kept letting Evan run in the kitchen to "help" and he kept bringing the baby in when she would cry.
Here is my icing and cake. I didn't have a big mixer, so I was using a hand held one. It took FOREVER and I slung icing all over my kitchen.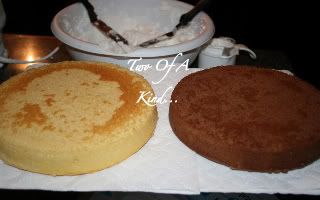 I went out and bought THIS over the weekend. I had an extra 30% off at Kohl's and got $10 back in Kohl's cash for every $50 that I spent. I thought it was a great deal and would make my life SO much easier.
Then it was time for icing! I used this huge tip and a bag to put the icing on my cake. It makes icing the side so much easier.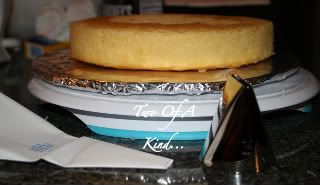 THIS is what I took to class. I was up until 12:30am putting the icing on so I didn't make it as smooth as I could have.
We basically just played around with a our tips on a practice board so we could learn how to control our hands. I am still working on pressure control and will keep practicing. We also learned how to start making the rose. I think I'll be able to make a rose in Thursday's class.
I was extremely rushed so I did the boarders really fast. We spent most of the class using our practice boards(which you can see on the left side of this picture). This is my first finished cake for the class.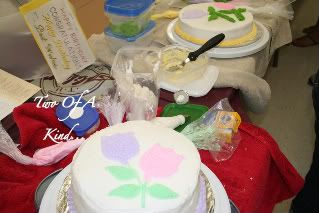 This week we're taking cupcakes so we can do different things on each of those. I'm excited to learn more techniques!