Anne Geddes is a name that we all recognize. She is known for her fantastic photographs of small babies posed as if they are part of nature. Her images have been published in 83 countries and she has sold more than 18 million copies of her books worldwide.
In 2001,
Anne Geddes
launched her clothing collection, Anne Geddes Baby. She is now introducing the
Pure Collection
. This line is made from 100% pure, 100% natural fibers that are safe for both baby and the environment. The collection became available Sept 2009 in limited quantities exclusively at the Anne Geddes flagship store located in the Downtown Disney® District in Anaheim, California, and online at www.annegeddes.com.
Anne Gedes sent us the
pure Singlet
. It features a newborn on the front with soft muslin detail.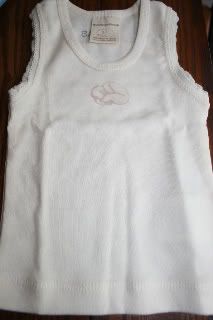 In Australia, the Singlet is a must-have for newborns. It can be worn by itself on warmer days and provides another layer during cooler weather. After spending time with hundreds of babies and their moms, Anne Geddes believes that they deserve the very best. Her entire Pure layette is meant to nurture and protect babies.
The Singlet arrived in this pouch.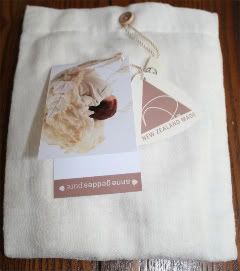 The back has the Anne Geddes Pure tag on it.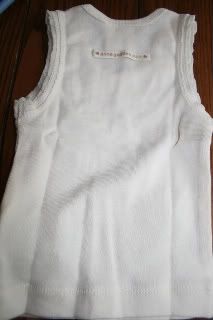 In pure Anne Geddes fashion, this Singlet is amazing. It is super soft and absolutely adorable. My only problem with it is that it runs pretty small. The size is newborn, but I don't think it would fit larger newborns very well. My baby was 8 pounds when she was born, but lost down to 7lb 4oz and stayed under 8 pounds for 2 weeks. At 3 weeks, it was a tight fit and she hasn't worn it since. I really think it should come in different sizes since many babies skip the newborn size all together. Here you can see a little more detail from a picture of Isabella in hers.
Isabella wore it a few times during her first 2 weeks and I thought she was adorable in it. I know that she was comfortable and it kept her cool in our humid heat. I think Anne Geddes should come out with an adult collection that is this soft.
Buy It!
You can purchase the
Anne Geddes Pure Singlet
for $24.50.
This was not a paid post and honest opinions were used. Thank you to Anne Geddes who supplied the product for the review.