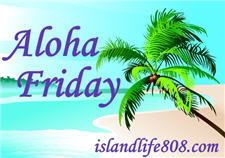 It's Aloha Friday over at
An Island Life
! Answer my question and make sure you post one on your blog! After that, go relax because today is Friday!!
My question for this week is:
Are you good at making decisions on your own?
I'm not! There are some things that I can make split decisions on, but most of the time I have to do a lot of research and get other people's opinions. That's why I love review blogs, I can get other parents' opinions on everything from cloth diapering to what toy to buy.