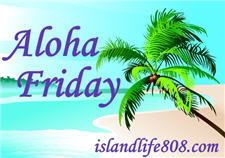 It's Aloha Friday over at
An Island Life
! Answer my question and make sure you post one on your blog! After that, go relax because today is Friday!!
My question for this week is:
What color are the walls in your house?
We built our house 3 years ago and we planned on only living here about 3 years so we painted most of our walls a neutral color. I don't want to sell my house yet because I HOPE the market goes back up. I did paint the walls behind my kitchen cabinets red and Evan's room is old pickup blue. I left Isabella's room neutral because she has so much other color in her room and it would be hard to match.